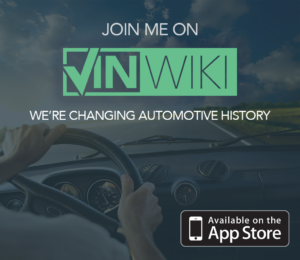 3…2…1… GO!
VINwiki is launching! Want to come to our launch party?
June 18. 8PM – At VINwiki HQ

3440 Oakcliff Rd.
Unit 128
Atlanta, GA 30340
VINwiki is a technology startup that offers a social vehicle history reporting platform. Unlike Carfax and Autocheck that most of us know to be difficult and inaccurate, VINwiki is setting out to give the user the voice to tell the story of the cars they love. We invite owners, dealers, manufacturers, service provider, enthusiasts, and everyone else in the car world to create, contribute to, and curate the historical timelines of the cars around us.
On VINwiki you can make a post to any car based on its unique 17 digit VIN number. You can type the VIN, scan the door barcode, or enter the license plate using our PL82VIN converter. Posts can contain photos, mileage updates, location reporting, and backdates as you build out the history of your cars and the cars around you.
Our app is now live in the App Store. You can download it by following this link. I would love for you all to get the app, try it out, and let me know what you think. I hope that you find it to be a compelling way to track your daily activities with your cars and add value down the road. I also hope you will enjoy following your friends as they do the same.
Please check us out on Facebook, Twitter, Instagram, and our web site here.